Bar & Table Top Epoxy Resin
Regular price
Sale price
$49.00
Unit price
per
Couldn't load pickup availability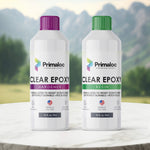 Regular price
Sale price
$49.00
1 Quart Combined / $49
Epoxy Resin Coating, Designed for Durability and Ease of Use.
Primaloc Premium Epoxy is a versatile, All-American epoxy resin surface coating designed for bar tops, tabletops, countertops, river tables, and charcuterie boards, offering long-lasting durability along with a rock-solid finish. The 1:1 mixing ratio is simple to follow, making it ideal for those new to using epoxy.
Long-Lasting Brilliance
Stop worrying about your surfaces losing their shine or showing signs of aging. With Primaloc epoxy, your countertops and tables maintain that 'just-installed' luster for years. No yellowing, no clouding—just a crystal-clear finish that stands the test of time.
Stress-Free Application
Say goodbye to complicated procedures. Our 1:1 mixing ratio takes the guesswork out of the process. You don't need to be an expert to get a smooth, even coat that feels like a professional did it. In minutes, you're closer to having the surface you've always dreamed of.
Extreme Level of Protection
Are you tired of surfaces that wear out before their time? Primaloc epoxy self-levels to give you a commercial-grade layer of protection. It's like an invisible shield that's twice as thick as other epoxies but doesn't look it. It's all the protection without compromising the look.
Engineered to Work on Virtually Any Surface.
Wood
Concrete
Granite
Bottle Caps
Copper
Stainless Steel
Ceramic
Laminate
Formica
Quartz
Bamboo
Marble
Paper
Labels
Shells
Rocks
Corian
Corks
Stickers
Photos
Sand
Fabric
Metal
Tile
See Why People Love Primaloc.
Don't Settle for Less — Choose Primaloc Epoxy for Beauty, Durability, and Safety.
No Harmful Fumes, All the Safety
With zero VOCs and a low odor profile, you can literally breathe easy. Plus, it's safe around food. Imagine updating your kitchen without having to send the family or pets away for the day!
Cost-Effective for Big Projects
More coverage means you need to buy less product. Get your dream look without breaking the bank.
Made with American Pride
We guarantee quality because we control the entire manufacturing process from start to finish. Our ingredients are 100% sourced in the USA, ensuring that you get the highest standard of epoxy resin.
Why Primaloc Outperforms.
Discover what makes our epoxy the undisputed leader in its class, setting new standards for quality and performance.
See the Magic, Experience the Difference.
Witness firsthand how Primaloc Epoxy takes any surface from drab to fab in just one application. These projects come straight from our customers and haven't been altered, offering a genuine look at what our product can do.
Rock-Solid Table Top Epoxy Finish.
Primaloc Premium epoxy will make Bar Tops, Table Tops, and Countertops come to life with rich and vibrant detail.
Commercial Grade Epoxy: 1/8" Self-Leveling

Twice as Thick as Standard Epoxy

Non-toxic, Food Safe Epoxy Resin

Lasting Durability & Shine


Formulated to Resist Scratching

Never Yellows, Fades, or Cracks

100% Zero VOCs, Virtually Odorless

Maintenance-Free, Worry-Free

Made Right Here in the USA

1 Quart Combined = 1 Pint Resin + 1 Pint Hardener
Covers 12 Sq. Ft. for Seal Coat or Covers 4 Sq. Ft. for a Flood Coat

1/2 Gallon Combined = 1 Quart Resin + 1 Quart Hardener
Covers 24 Sq. Ft. for Seal Coat or Covers 8 Sq. Ft. for a Flood Coat

1 Gallon Combined = 1/2 Gallon Resin + 1/2 Gallon Hardener
Covers 48 Sq. Ft. for Seal Coat or Covers 16 Sq. Ft. for a Flood Coat

2 Gallons Combined = 1 Gallon Resin + 1 Gallon Hardener
Covers 96 Sq. Ft. for Seal Coat or Covers 32 Sq. Ft. for a Flood Coat

3 Gallons Combined = 1 1/2 Gallons Resin + 1 1/2 Gallons Hardener
Covers 144 Sq. Ft. for Seal Coat or Covers 48 Sq. Ft. for a Flood Coat

4 Gallons Combined = 2 Gallons Resin + 2 Gallons Hardener
Covers 192 Sq. Ft. for Seal Coat or Covers 64 Sq. Ft. for a Flood Coat


How To Apply Epoxy Resin to Table Tops, Bar Tops, and Countertops
For most applications, Primaloc Epoxy is applied in two stages, the Seal Coat stage and the Flood Coat stage.
Seal Coat: The seal coat is a small batch of epoxy that is brushed on in a thin layer to seal any pores in the surface and prevent air bubbles from forming in the following flood coat. Our epoxy is used for both the seal coat and the flood coat. It is the same product that is applied to the surface with a paint brush. 
Flood Coat: After waiting 4-6 hours from when the seal coat was applied, a flood coat is simply poured on the surface and it self-levels to 1/8". Additional Flood coats can be applied every 4 hours to cover thicker embedded objects.
Side and Edges: When pouring over the Sides and Edges of a table, counter, or bar top, make sure that you purchase extra material to account for spillage over the sides as you will lose 30% of the material coating them.
How to Use Primaloc Premium Epoxy—
No Experience Needed.
Create a beautiful crystal-clear surface with countertop epoxy resin
in just a few easy steps.

Step 1: Measure Epoxy
Primaloc Premium Epoxy is a two-part, epoxy coating that is mixed at a one to one ratio. Pour an equal amount of hardener and resin into a new container. We have the Multi-Mix All Purpose 5 Quart Container available for purchase.
Step 2: Mix Epoxy
Next, mix the epoxy thoroughly to ensure that the batch is completely blended. Make sure to blend the epoxy on the bottom and sides of the container extremely well. We offer reusable stir sticks and drill bit mixers to buy online for your convenience.
Step 3: Pour Epoxy
Lastly, pour the epoxy onto your surface. Primaloc Premium Epoxy self levels so there is no need to move it around with any tools like most other epoxy products. It's important to ensure that you have enough epoxy for covering the sides and edges.
Free Tool Kit with 2 Gallon+ Epoxy Purchase.
Get a Free Epoxy Tool Kit with purchase of 2 gallons or more of epoxy (a $39 value).
Plus Free Same-Day Shipping! Click here for details.

Epoxy Tutorial
This epoxy tutorial video shows how to apply a seal coat of Primaloc Premium Epoxy followed by a flood coat on a stained butcher block wood surface. View More Primaloc Clear Epoxy Videos
Free

Fed

Ex

Shipping
Always receive free same day FedEx shipping on orders over $50 in the contiguous USA.
Made in the USA Guarantee
Primaloc™ Premium Epoxy is made 100% in the United States. You can trust our epoxy in any environment, including sensitive areas such as kitchens, restaurants, and wineries.
Experienced Professionals
We're not just epoxy sales people. Our staff has many years of hands on experience working with epoxy in all kinds of real world applications. We are ready to help you succeed!
The Most Reviewed Epoxy on the Market
Real results on why customers think Primaloc is the best epoxy for countertops.
Tiki Bar
I loved the product. The bar came out beautiful. Customer service was awesome. I am a processional finisher. I had never used a pour on finish. A little i intimidating. The finished bar looked amazing. The depth and clarity was unbelievable
Thank you
Donald Kizer
Amazing!
After reading comments we decided to try it anyways. I am so glad we did it turned out amazing. I can not wait to finish the rest of my kitchen countertops. The instructions were easy to follow. I was nervous that the next morning we would find tacky spots NOPE not only did that look like glass, but just as smooth! My one countertop we did it 17 ft x 2 ft. Look at that shine!
Awesome
Its a great product and this is my go to resin!! I'm disappointed that I couldn't purchase the 3 gallon kit, but other than that I love it!!!
Concrete, quartz mosaic countertop.
Absolutely amazed with the results! Followed the instructions and did not attempt to use the epoxy until the temperature was above 75F and I am beyond pleased with the results. The original quartz tabletop broke, so I smashed the quartz into smaller pieces and embedded them in concrete. I applied one base coat and three flood coats. I heavily sanded between flood coat 2 and 3 to remove some ridges created by the quartz not be completely embedded in the concrete. Would absolutely recommend this product and I'm already trying to find of another project that will need epoxy and will purchase Pimaloc again.
No Regrets
I've been messing w/ epoxy for a couple of years. Each time I buy, I usually get different brands because of yellowing or some other reason that I don't like. Tried this brand last night and was pleasantly surprised. I don't have anything bad to say. It's low odor, high tolerance of heat(heat gun) and ease of maneuvering the flow around table, made it easy to work with. It also was very forgiving in time to smooth out.
Choosing a selection results in a full page refresh.
Your cart
Recommendations